Release date:2018
Author:Joey Korenman
Skill level:Beginner
Language:English
Exercise files:Yes
What is Animation Bootcamp? Knowing HOW to do something in After Effects is great… but knowing WHAT to do is better. Understanding the principles of good Animation is the key to creating amazing, fluid work.This 6-week interactive experience will put you ahead of the competition and ignite your ability to create beautiful, purposeful movement no matter what you're working on.
If you start every project with a pit in your stomach hoping that somehow you'll "find" some good animation by experimenting with keyframes… then this course will literally change your career.
Step-by-step Classes & More.. You will gain evergreen access to the Animation Bootcamp Student Portal. The portal contains 6-weeks worth of content that is time-released day-by-day to you. Whether you are new to Motion Graphics or a seasoned pro, you will be shown step-by-step and then tested
What will you learn in Animation Bootcamp?
Motion Curves
Create beautiful, FLUID movements using the Graph Editors. You gotta learn 'em to animate well.
Eye Control
Control your viewer's eye and make your work incredibly pleasing to watch. This principle is like a super power for After Effects artists.
Animation Vocabulary
Build up a comprehensive Animation Vocabulary to expand your toolset and give you tons of options for your work.
Principles of Animation
Add more impact and energy to your animations using Anticipation, Overshoots, Follow-Through, and more.
Critical Eye for Animation
Develop your critical-eye for Animation so you can hone in on great movement quicker and easier.
After Effects Techniques
Find out how to stop relying on plugins and tricks to make great work. Learning to animate can change your career.
Week 1 Day_01.zip Day_01_01 Day_01_02 Day_01_03 Day_02.zip Day_04.zip Day_04_Frame by Frame Day_04_Space Explorer Day_05.zip Day_05_GoodTaste.mp3
Week 2 Day_06.zip Day_06_Animation Curves Part 1 Day_06_Exercise Step 3 Day_06_Parenting and Alpha Mattes Day_07.zip Day_07_INT_KylePredki_r2.mp3 Day_08_webinar.txt Day_09.zip Day_09_Animation Curves Part II Day_09_Dogfight Day_10.zip Day_10_TheDipCometh.mp3
Week 3 Day_11.zip Day_11_Cube Expression Rig Explained Day_11_Dreidels and Cow Blasting Day_11_Oscillations for Fun and Profit Day_12.zip Day_12_INT_MorganWilliams_r2.mp3 Day_13_webinar.txt Day_14.zip Day_14_Bounces and the Pong Challenge Day_14_Shape Layers Day_14_The Way of the Bounce Day_15.zip Day_15_Universal Principles
Week 4 Day_16_DUIK Demo Day_16_duik_14.23.zip Day_16_Follow-Throgh Bootcamp Day_17.zip Day_17_INT_SanderVanDijk.mp3 Day_18_webinar.txt Day_19.zip Day_19_Squashy Stretchy Secondary Day_20.zip Day_20_CareerTalk.mp3
Week 5 Day_21.zip Day_21_More Shape Layer Ideas Day_21_Reinforce Yo Movement Day_22.zip Day_22_INT_RichNosworthy.mp3 Day_23_webinar.txt Day_24.zip Day_24_How to Control Eye Trace Day_25.zip Day_25_The Express Train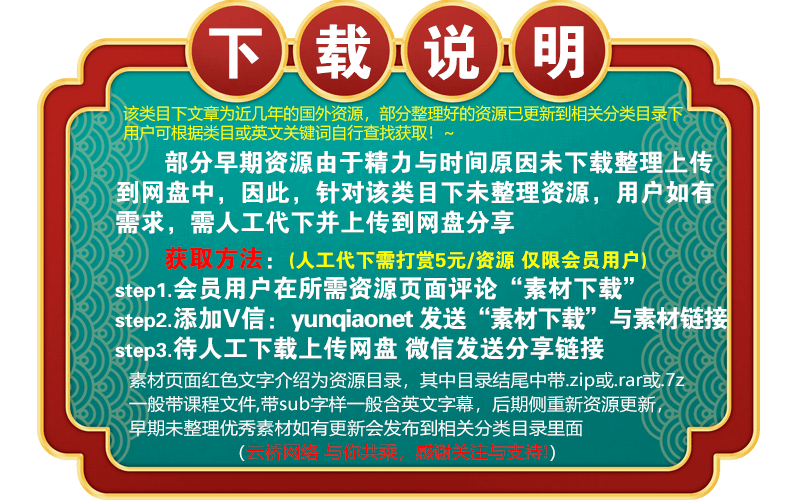 Channel and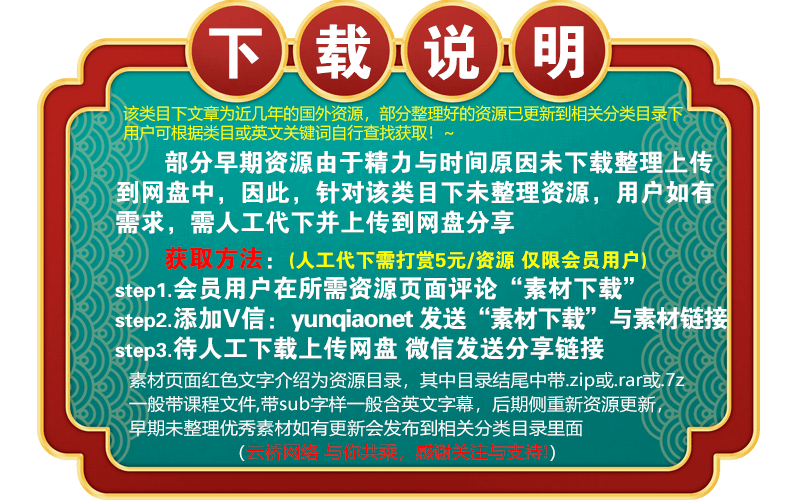 Group
下载说明:请用浏览器打开网页
1、登录后,打赏58元成为会员,全站资源免费获取!
2、资源默认为百度网盘链接,请用浏览器打开输入提取码不要有多余空格,如无法获取 请联系微信 yunqiaonet 补发。
3、分卷压缩包资源 需全部下载后解压第一个压缩包即可,下载过程不要强制中断 建议用rar解压或360解压缩软件解压!
4、云桥网络平台所发布资源仅供用户自学自用,用户需以学习为目的,严禁批量采集搬运共享资源,望知悉!!!
5、云桥网络 会员平台地址:yunqiaonet.com,yunqiaowang.cn,平台资源大同小异 会员机制不同 用户账号不通用!
6、云桥网络为广大影视特效制作,动画制作与游戏开发制作等相关领域的CG自学者提供优质学习资源,感谢您的关注与支持!