Release date:2019, February 4
Duration:12 h 33 m
Author:Mislav Majdandžić
Skill level:Beginner
Language:English
Exercise files:Yes
What Will I Learn?
Learn how to create both SIMPLE and COMPLEX pixel art! Objects, characters, environment, animations – ALL of it!
Build your own game art with prototypes!
Where to find clients, how to talk to them and how much to charge for your work!
You will learn to design and animate pixel art for all game genres (e.g. RPG, Platformer, Top-down)
Get access to Discord server where you can work on REAL projects (that earn money)
Requirements You need a working PC, preferably with a mouse and a keyboard.
Description This course teaches everything about pixel art for video games. From the very basics to the advanced techniques. Students will learn about lines, shapes, colour theory and harmony, creating a colour palette, designing characters, backgrounds, items, making animation and even how to start freelancing. You will also learn a lot about game design principles.
If you are new to art or pixel art and want to create better art for your indie games then this course is for you.
This course is always growing with new lesson every week. If there is a topic that you would like me to cover, you can message me and I will make it. I am on Udemy and Discord server every day so you can easily get in contact with me. Discord also provides certain benefits once you reach a certain role on the server such as working on real projects with me and/or other people (e.g. finished, published games on multiple platforms).
This course will strengthen your foundations in art and pixel art. It will build your confidence in your art and give you the information you need to continue improving your pixel art and start making money.
By the time you finish the course, you will already have a portfolio for different game genres with practical game design.
This course has 3 big parts: beginner [B], intermediate [I] and advanced [A]. Each section is marked with a letter inside square brackets at the end of it's title with corresponding difficulty.
Who is the target audience?
Game developer that wants to learn simple pixel art for games
Beginner pixel artist that wants to become an expert
Experienced pixel artist that wants to expand existing knowledge and learn new skills
Game artist that wants to learn new field of art
Anyone that wants to learn how to communicate in game industry and how to earn money
If you want to join exclusive pixel art community
Table of Contents
Getting started 01:19:04
How this course works 01:54
What software to use? Free or paid? 04:43
Photoshop basics 25:09
Pyxel Edit 19:15
Aseprite 16:47
Piskel 11:16
Lines and Shapes [B] 11:55
Introduction 00:20
Lines 04:34
Challenge 1 02:51
Shapes 02:11
Challenge 2 01:59
Shading and lighting [B] 20:05
Introduction 00:19
Value and contrast basics 01:48
Negative and positive space 01:27
Basic geometric shapes 01:29
Shading a cube 02:48
Shading a sphere 02:55
Shading a cilinder 01:46
Shading a cone 02:21
Shading a pyramid 01:07
Dithering 02:44
Challenge 3 01:21
Colours and textures [B] 40:42
Introduction 00:25
Hue 03:50
Saturation 01:54
Value 00:55
Basic colour theory 05:49
Colour harmony 05:30
Creating a colour palette 06:02
Simple wood texture 05:37
Simple metal texture 03:33
Applying textures to shapes 06:26
Challenge 4 00:41
Drawing simple objects [B] 41:13
Introduction 00:29
Creating objects from simple geometric shapes 00:51
Drawing an orange 08:54
Drawing a potion bottle 07:05
Drawing a book 04:02
Drawing an arrow 05:11
Drawing a sword 08:32
Drawing a gun 04:42
Challenge 5 01:27
Tiles [B] 28:59
Introduction 00:14
What are tiles 02:25
Tiling basics 05:47
Simple grass tile 03:54
Simple dirt tile 04:11
Simple water tile 05:58
Creating a tileset 05:58
Challenge 6 00:32
Backgrounds [B] 19:15
Introduction 00:22
Drawing a simple background 08:39
Using colours and shapes to create depth 03:50
Adding reflection on water surface 03:22
Challenge 7 03:02
Basic characters [B] 23:43
Introduction 00:22
Drawing 8×8 pixel art character 06:02
Drawing 16×16 pixel art character 09:06
Drawing 32×32 pixel art character 07:33
Challenge 8 00:40
Simple animation [B] 47:28
Introduction 00:21
What is animation 01:33
Simple grass animation 05:37
Challenge 9.1 00:52
8×8 character walk and run animation 05:39
8×8 character attack animation 03:32
16×16 character walk and run animation 09:53
16×16 character attack animation 05:30
32×32 character walk and run animation 05:38
32×32 character attack animation 07:33
Challenge 9.2 01:20
Platformer View [I] 02:25:14
Introduction 00:35
Cohesive colour palette 14:29
Platformer Tileset 33:10
Platformer Background 08:40
Foreground Details 13:24
Platformer Character 14:19
Platformer Character Idle and Walk/Run animations 08:40
Character Attack/Dmg/Death Animations 10:06
Platformer Enemy 07:09
Enemy Animations 06:27
Platformer Traps 06:32
Finishing the Platformer Mockup 10:45
Different types of platformer perspectives 10:10
Challenge 10 00:48
Top Down View [I] 02:08:25
Introduction 00:20
What is Top Down View? 08:12
Top Down Shooter Character design explanation 04:30
Top Down Character 17:48
Character Walk Animation 04:15
Top Down Grass Tile 05:47
Top Down Dirt Tile 04:21
Top Down Tileset 17:31
Road and Sidewalk Tiles 16:41
Top Down House 16:38
Top Down Vehicle 13:04
Top Down Objects 07:58
Top Down Mockup 11:07
Challenge 11 00:13
Highly Detailed Pixel Art [A] 25:33 Sword 25:33
Freelancing [A] 02:21:38
Introduction 00:46
What is success 04:54
General guidelines on how to improve and become successful 01:49
Grind 06:30
Focus 05:36
Overcoming the fears 05:23
Getting feedback 03:10
Websites for exposure and feedback 04:20
Portfolio – what to put in it 10:16
Working for free 06:22
How much should you charge 16:21
Ways of payments 05:50
Things to look out for in contracts 07:42
Dark Freelancing 02:31
How to talk to clients 20:02
Websites for finding work 12:41
Types of clients and their transformations 10:04
How to grow your business 17:21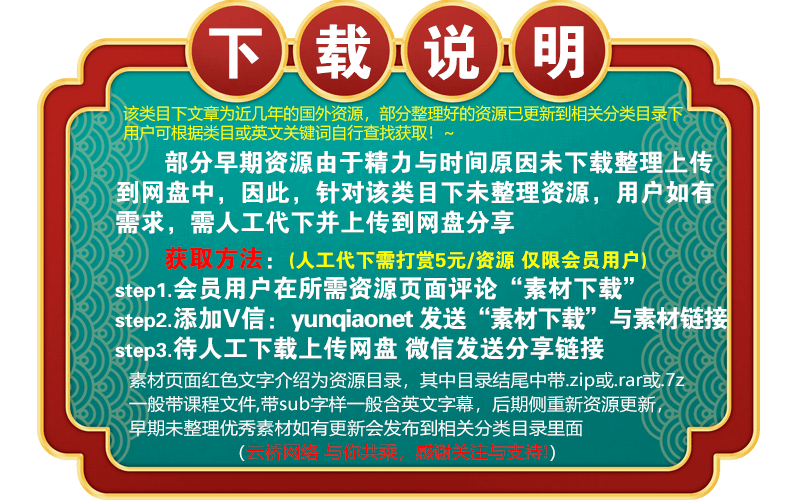 Channel and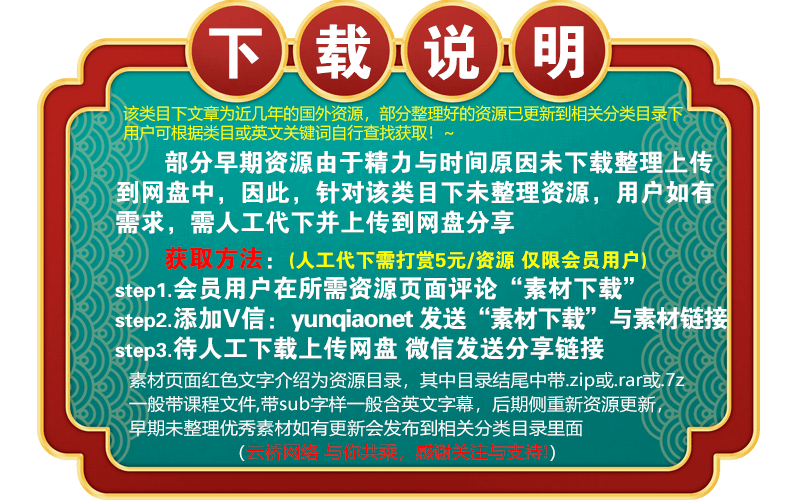 Group
下载说明:请用浏览器打开网页
1、登录后,打赏58元成为会员,全站资源免费获取!
2、资源默认为百度网盘链接,请用浏览器打开输入提取码不要有多余空格,如无法获取 请联系微信 yunqiaonet 补发。
3、分卷压缩包资源 需全部下载后解压第一个压缩包即可,下载过程不要强制中断 建议用rar解压或360解压缩软件解压!
4、云桥网络平台所发布资源仅供用户自学自用,用户需以学习为目的,严禁批量采集搬运共享资源,望知悉!!!
5、云桥网络 会员平台地址:yunqiaonet.com,yunqiaowang.cn,平台资源大同小异 会员机制不同 用户账号不通用!
6、云桥网络为广大影视特效制作,动画制作与游戏开发制作等相关领域的CG自学者提供优质学习资源,感谢您的关注与支持!