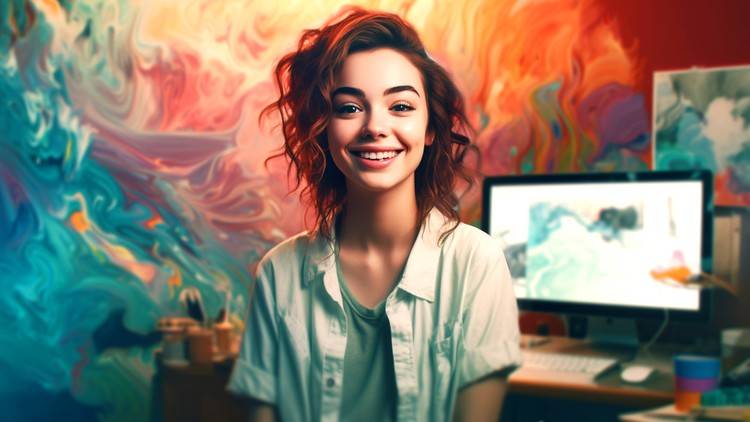 欢迎来到 Midjourney、Dall-E、Stable Diffusion:AI 摄影与艺术课程!该在线课程专门旨在为您提供使用尖端人工智能艺术工具所需的技能和知识,并将您的创作过程提升到一个新的水平。无论您是数字艺术家、摄影师、设计师,还是仅仅是对视觉创意充满热情的人,本课程都将向您介绍 Midjourney、Dall-E 和 Stable Diffusion 令人难以置信的功能。
在整个课程中,您将学习如何利用这些领先的 ​​AI 艺术工具来生成令人惊叹的独特图像。您将发现每种工具的复杂性,并了解它们如何增强您的创意工作流程。该课程旨在提供对所有三种工具的全面理解,使其成为学习如何创建令人难以置信的 AI 生成视觉效果的终极资源。Midjourney, Dall-E, Stable Diffusion – AI Art Masterclass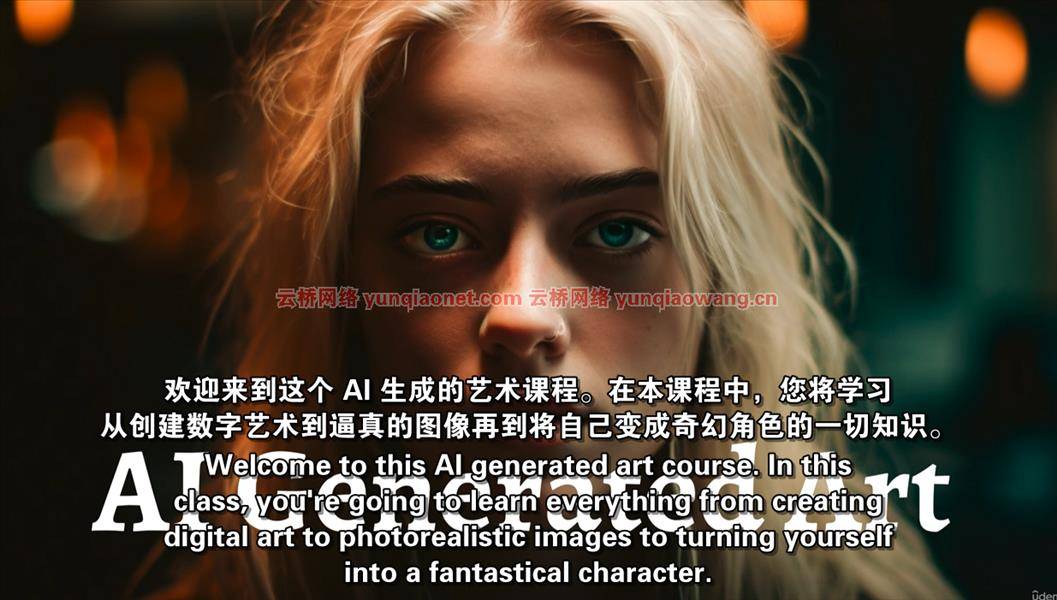 到课程结束时,您将掌握在艺术创作中有效使用 Midjourney、Dall-E 和 Stable Diffusion 的技能。您将能够通过 AI 的力量释放您的创造力并探索数字艺术的新维度。无论您是想加强现有的艺术实践还是踏上新的创作之旅,本课程都将为您提供知识和工具,让您在数字艺术领域保持领先地位。
通过 Midjourney、Dall-E、Stable Diffusion:AI 摄影与艺术课程,准备好转变您的创作过程并释放 AI 艺术工具的全部潜力。立即报名,踏上精彩的艺术探索与创新之旅。
由Video School,Viola Kanka Malaspina,Phil Ebiner创建
MP4 |视频:h264,1280×720 |语言:英语+中英文字幕(云桥网络机译)|时长:49节课(7小时5分钟)|大小:4.48 GB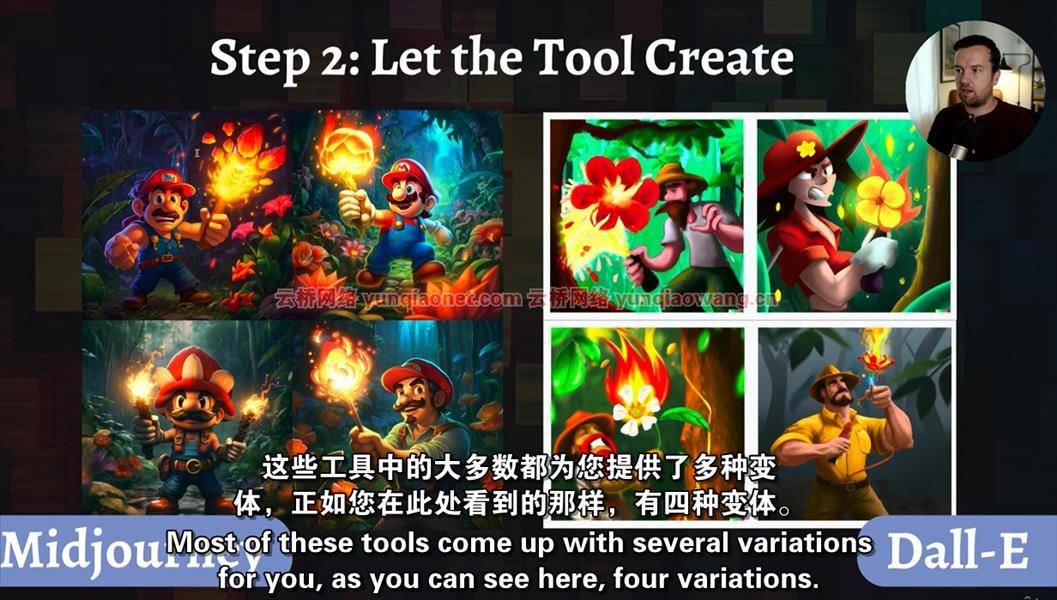 01. AI Art with DALL-E, Midjourney & Stable Difussion简介
01. 欢迎 + 快速 DALL-E 和中途速成课程
02. AI 艺术的提示工程——一切都是为了写出很棒的提示!
02. 如何编写好的提示
04. 提示生成器帮助您处理下一个提示
05. 如何使用 ChatGPT 生成提示
03. DALL-E 2课程
01. DALLE-2 介绍以及如何为 DALLE-2 编写提示
02. 高级 DALLE-2 修复和修复
03. 高级 DALLE-2 创建无限放大效果
04. DALLE-2 上传和编辑图像
05. 其他在 Bing Image 08 上使用 DALL-E。
案例研究了解 Phil 如何将 DALL-E 用于他的业务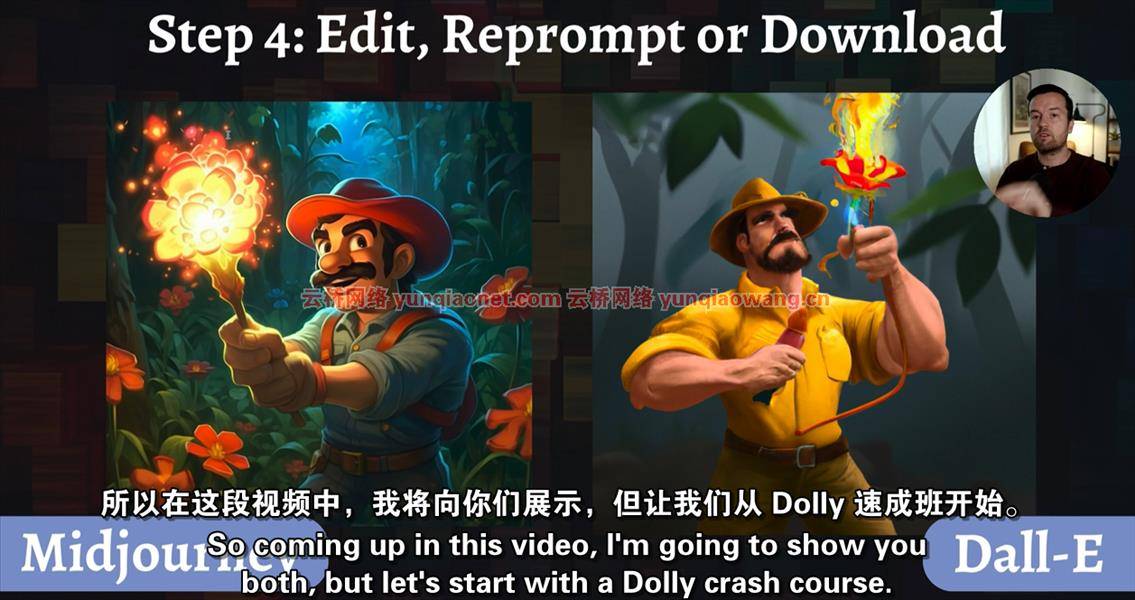 04. Midjourney课程
01. Midjourney 如何开始和编写您的第一个提示
02. Midjourney 高级参数长宽比和版本
03. Midjourney 高级参数混乱、风格化、质量和种子
04. Modjourney 高级如何混合图像和使用图像提示
05. Midjourney 高级如何使用 Remix 模式
06. Midjourney 高级参数负提示、权重和图像权重
07. Midjourney 摄影师如何使用样式和其他技巧
08. Midjourney 高级如何创建一致性
15. 案例研究查看 Phil 如何使用 Midjourney 开展业务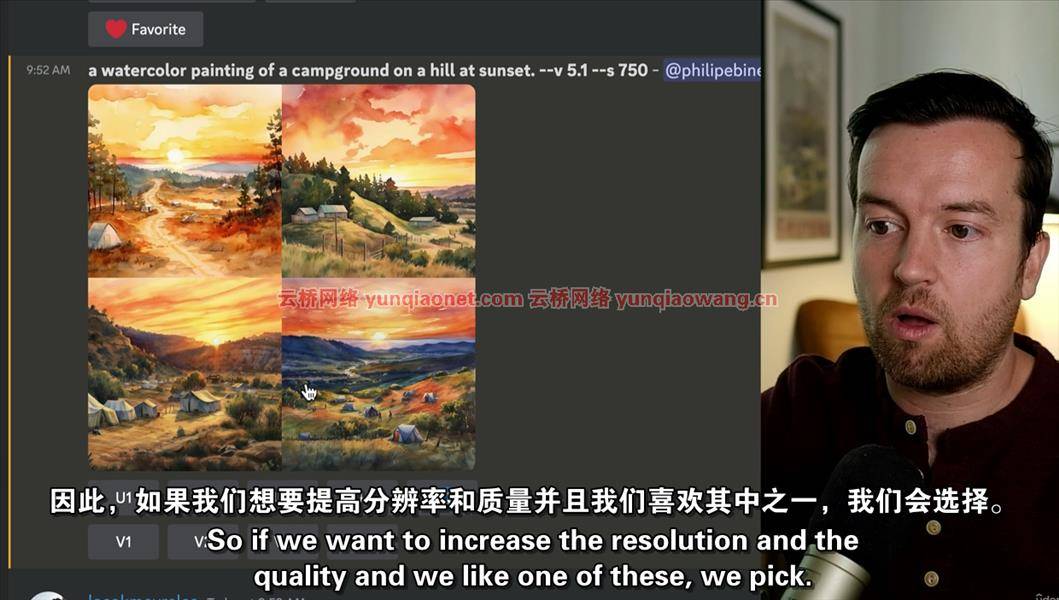 05.Stable Diffusion课程
01. 在 DreamStation 上使用 Stable Diffusion
02. 在 DreamStation Inpainting 和 Outpainting 上使用
Stable Diffusion 04. 在 Google Colab 上使用 Stable Diffusion 和 Automatic 1111
05. Automatic 1111 界面和第一步
06. Automatic 1111 生成您的第一张图像以及如何使用提示权重
07. Automatic 1111 如何使用 Img2Img 和 Inpainting 功能
08. 如何在 Automatic 1111 上升级
09. Advanced 如何查找、安装和使用模型和 LORA
10. Advanced 如何使用 Controlnet 控制人体姿势和构图
11. Advanced 创建动画使用 Deforum
12。高级如何在稳定扩散上获得逼真和一致的面孔
06. 你应该学习的更高级和重要的人工智能艺术技能
01. 使用 ARC 和 Photoshop 修复面部
02. 修复图像缺陷的常用方法
03. 如何升级图像
04. 使用 AI 艺术进行营销
05. 使用 Photoshop 编辑图像、删除对象和删除背景
07. 人工智能艺术大师班总结
01. 了解版权和知识产权法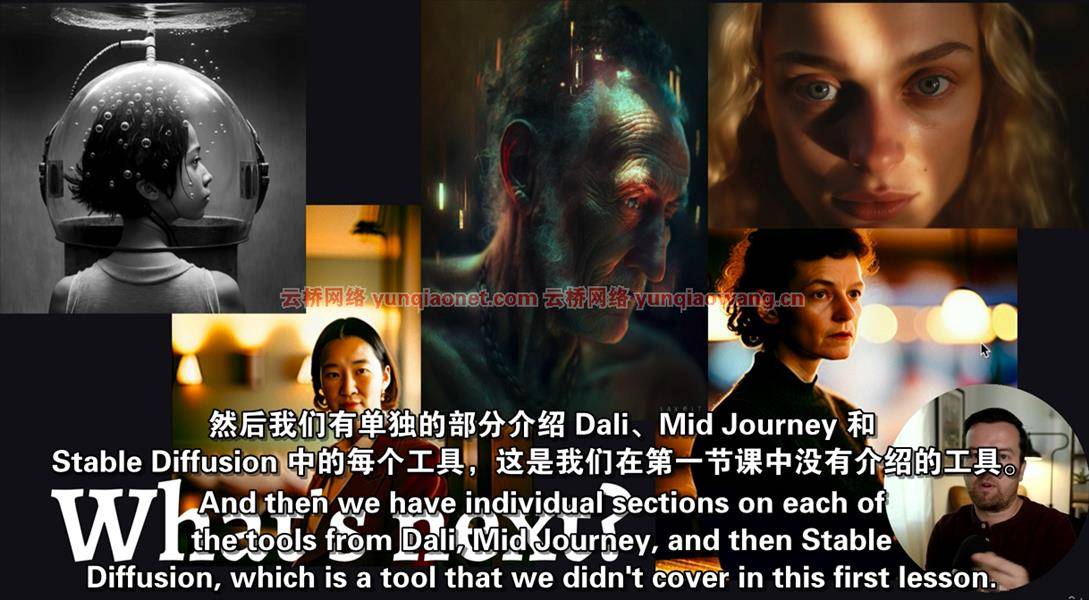 Join the AI Art Revolution! Quickly Master Midjourney, Dall-E, and Stable Diffusion to Unleash Your Creativity
What you'll learn
Master AI for Creativity: Dive into the fascinating world of creative AI tools and grasp their underlying concepts and technologies.
Prompt-Engineering: Learn how to properly write prompts to get the results you want.
Learn Midjourney: Unleash your creativity by generating stunning images with Midjourney's AI magic.
Learn Dall-E: Transform text prompts into unique, eye-catching images with the power of Dall-E, revolutionizing your artistic process.
Learn Stable Diffusion: Create captivating, stylistically diverse artworks with controlled randomness, pushing the boundaries of digital art.
Manipulate images with AI: Combine and tweak images using creative AI tools, taking your visual designs to new, innovative heights.
Supercharge your workflow: Seamlessly integrate AI photography and art tools into your creative pipeline for enhanced output and efficiency.
Navigate AI ethics: Understand the ethical landscape of AI-generated art, tackling potential biases and fostering responsible creativity.
Showcase your AI artistry: Build an impressive portfolio of AI-generated masterpieces that reflect your unique vision and skillset.
Stay ahead of the curve: Keep up with the latest trends and breakthroughs in creative AI, ensuring you remain at the cutting edge of artistic innovation.
Requirements
Access to a computer with a stable internet connection: Students will need a reliable computer and internet access to view course content, participate in online discussions, and utilize AI tools.
Curiosity and willingness to learn: Students should be eager to explore the world of creative AI tools, experiment with new techniques, and embrace the potential of AI-generated art and photography.
Basic understanding of digital art and photography concepts: Familiarity with essential principles and techniques in digital art and photography will help students better grasp the course material.
Description
Master the use of groundbreaking AI Art tools to generate stunning visuals, transform your creative workflow, and stay ahead in the world of digital art.Do you want to learn how to create incredible AI-generated images with Midjourney, Dall-E and Stable Diffusion – the leading AI art tools?Perfect, this course is the only course you need to learn ALL THREE tools.Welcome to Midjourney, Dall-E, Stable Diffusion: AI Photography & Art, an online course designed to help you harness the power of creative AI tools and revolutionize your artistic process. Whether you're a digital artist, photographer, designer, or just passionate about visual creativity, this course will unlock new realms of possibility with innovative AI-driven tools.What can you do after taking this course?Generate captivating visuals with Midjourney, Dall-E, and Stable Diffusion, showcasing your proficiency in using these AI tools.Craft effective prompts, leveraging keywords, images, and AI assistance for dynamic and inspiring results.Seamlessly integrate creative AI tools into your existing workflow, enhancing artistic output and efficiency.Apply advanced techniques, such as inpainting and outpainting, to create complex and innovative visuals.Utilize AI-generated art for specific applications like digital art, marketing, and design, broadening your creative opportunities.Fine-tune and customize AI-generated images using Photoshop and other editing tools to achieve desired outcomes.Navigate ethical and legal considerations, ensuring responsible and innovative artistry when using AI-generated art and photography.Keep up with the latest trends, research, and advancements in creative AI tools, staying competitive and informed within the industry.Collaborate effectively with AI, striking a balance between human creativity and AI-driven results for truly groundbreaking artistic creations.Develop a diverse and impressive portfolio of AI-generated artwork that showcases your unique artistic vision and mastery of cutting-edge AI tools.What will you learn in this Midjourney, Dall-E and Stable Diffusion course?Begin your journey by discovering the fascinating world of generative models, with a special focus on Mid-Journey, DALL-E, and Stable Diffusion. Understand the differences between these models and learn how they can transform your art and photography projects.Section 1: Prompt Engineering:Unlock the secrets of effective prompts! Explore the art of crafting good prompts, using keywords, negative prompts, and controlling image composition and lighting. Dive into using images as prompts, understanding seeds, and leveraging Chat-GPT and AI to generate dynamic prompts.Section 2: Image Generation with Mid-Journey:Embark on your Mid-Journey adventure by learning its architecture and capabilities. Set up Discord, generate images with Mid-Journey, and discover blend modes. Fine-tune and customize your generated images to create unique, awe-inspiring visuals.Section 3: Image Generation with DALL-E:Master DALL-E, an AI tool that generates images from text prompts. Learn about its architecture and capabilities, generate images using DALL-E, and explore the outpainting feature. Refine and tailor your generated images to achieve your desired results.Section 4: Image Generation with Stable Diffusion:Take a deep dive into Stable Diffusion's architecture and capabilities. Learn how to generate images online and on your computer, experiment with advanced techniques, and create mesmerizing animations with Stable Diffusion.Section 5: Advanced Techniques:Push the boundaries of your creativity by combining Mid-Journey and DALL-E for more complex image generation. Learn how to get realistic faces, fix image defects, and use masks and other advanced techniques.Explore specific applications like digital art and marketing, and fine-tune your images with Photoshop. Discover best practices for using generative models in your projects and study case examples of complex image generation.Section 6: Ethical and Legal Considerations:Navigate the ethical and legal landscape of AI-generated art. Discuss copyright and intellectual property laws, and learn best practices for using generative models in your creative projects, ensuring responsible and innovative artistry.By the end of this course, you will have a comprehensive understanding of creative AI tools, and the skills to generate captivating visuals with Mid-Journey, Dall-E, and Stable Diffusion. Your portfolio will flourish with AI-generated masterpieces, showcasing your unique artistic vision and your proficiency in using these groundbreaking tools.Get instant access to: Easy-to-watch video lessonsDownloadable practice filesPremium support if you ever get stuckLifetime access to the course & any updatesWho is your instructor?This course is a partnership between Phil Ebiner of Video School, who has created some of the top video & design courses on Udemy taken by millions of happy students, and Viola Kanka Malaspina. Viola is a professional filmmaker and creative artist with a budding expertise in the world of creative AI tools like Midjourney, Dall-E and Stable Diffusion. We're so excited that you're interested in this color grading & correction course. We can't wait to help you make better videos!Enroll now and embark on a journey of limitless creativity, supercharge your workflow, and stay ahead of the curve in the world of digital art and photography. Join a community of like-minded creatives and share your AI-generated artwork, inspiring one another while exploring the endless possibilities of AI-driven artistry.Cheers,Phil & Viola
Who this course is for
Digital artists and illustrators seeking to enhance their creative process and explore innovative techniques using AI-powered tools.
Photographers looking to expand their skill set and incorporate AI-generated visuals into their work for unique, captivating results.
Graphic designers interested in leveraging creative AI tools to generate original visuals and streamline their design workflow.
Marketing and advertising professionals aiming to create attention-grabbing visuals and campaigns using the power of AI-generated art and photography.
Hobbyists and enthusiasts passionate about visual creativity and eager to learn about and experiment with cutting-edge AI tools in the realm of art and photography.
Anyone who needs to learn Midjourney, Dall-E, an Stable Diffusion
下载说明:请用浏览器打开网页
1、登录后,打赏58元成为会员,全站资源免费获取!
2、资源默认为百度网盘链接,请用浏览器打开输入提取码不要有多余空格,如无法获取 请联系微信 yunqiaonet 补发。
3、分卷压缩包资源 需全部下载后解压第一个压缩包即可,下载过程不要强制中断 建议用rar解压或360解压缩软件解压!
4、云桥网络平台所发布资源仅供用户自学自用,用户需以学习为目的,严禁批量采集搬运共享资源,望知悉!!!
5、云桥网络 会员平台地址:yunqiaonet.com,yunqiaowang.cn,平台资源大同小异 会员机制不同 用户账号不通用!
6、云桥网络为广大影视特效制作,动画制作与游戏开发制作等相关领域的CG自学者提供优质学习资源,感谢您的关注与支持!